Moussa Diallo
Welcome to the official web site of Moussa Diallo
Bass player, singer, composer and story teller! Moussa Diallo has in the recent years released a number of albums, but also worked very much with children, especially in Africa. On this site you can: Explore his musical universe, listen to his music, get inspired by his stories and view photos from Moussa's career. Check tour dates to find out when and where you can attend the next concert.
Moussa Diallo is a fantastic storyteller. He has been performing for children in schools and other venues for many years. Visit the section for kids with more info.
---
News from Moussa
Special offer
You can currently buy children's music and books as special offer (Danish versions): Der var en gang... & Løveprinsen Sundjata (CD+bog)


New musical performance with dance and puppets
Danish Malian musician Moussa Diallo, has created a unique musical performance for DR Musikariet. On stage he is joined by talented musicians, actors and dancers. 'Sundjata The Lion Prince' features beautiful puppets made by renowned Malian puppeteer Yaya Coulibaly. View photos from the play
Two new videos from Moussa Diallo
2 videos from the new album Blues for 333 Saints are now available. You can watch "Sini" by director Luc Perez above and see more on the video page. 3 older videorecordings from Montmartre in 1993 has also ben added.
---
Photos from concert with DR Big Bandet
Moussa Diallo recently performed together with DR Big Bandet for a number of children's/family concerts. View more photos here.
---
New album: Blues for 333 Saints
New album from Moussa Diallo released 29th August 2013. Blues for 333 Saints.
---
New Children's book to be released
This autumn Moussa Diallo is set to release the Danish version of his new children book called 'Det fantastiske eventyr om Bonga - Mysteriet om Himlens Barn'. The English version, 'The Amazing Story Of Bonga', will be available at a later date. Read synopsis (pdf)
---
Film about the rainbow Project in Mali
The atmosphere is tense at the finale as thousands of children are waiting for the results from the five judges. Which school will win the contest about the best tale, and who will be elected best actor, best dancer and best singer? View the new film about the Rainbow Project in Mali long version (27 min) / short version (9 min) -and read more about the project here: Malian Children Change Their Future
---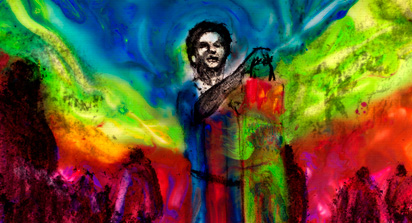 Film and new music being recorded
Moussa has written the music for the animated film 'Miniyamba - Walking Blues'by Luc Perez. www.miniyamba.com He has recorded a CD based on the music for the film which is released on CD/Download. Please send us a mail to order this music. Another CD from Moussa with the title Teriya featuring great artists from Mali, like Bassékou Kouyaté, Amy Sacko, will be released soon afterwards.
---
MOUSSA DIALLO won TRACK OF THE YEAR 2011 at the DANISH MUSIC AWARDS - WORLD
Danish Music Awards - World took place in Global Copenhagen on November 3rd. Moussa won the award for World Track of the Year 2011. View more photos from the event here
---
Competition inspires school children in Mali

Moussa's Rainbow Project is a great succes in Mali. Children act, sing, play and dance with humour and passion, as they compete in story telling. Visit Mali with Moussa Diallo and find out why he initiated the Rainbow Project.